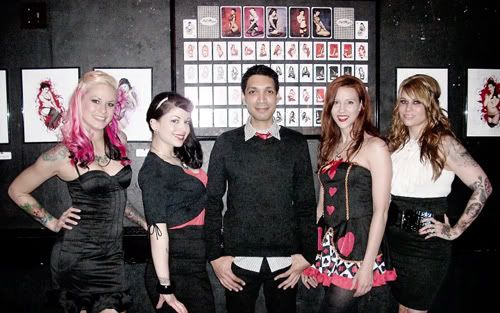 Another
BIG THANKS
to everyone who made it to our
Release Party @ The Loop Lounge
. It was an absolute success and was actually the first time all the models met. We sold out all our first run decks (OPT001) and had about 60 different designs on display including the completed deck of cards.
All the models did a great job and helped set up, sign decks of cards and take the time out to answer everyone's questions. Our "Mystery Joker" was a hit and both Kat and her husband Orrin were an amazing support through the final stages of
Pin Up Players
. This was also the release of our sister project
Pin Up Originals
. Although only 20 prints were made of each image, we still have a few signed and unsigned prints for sale which will carry over into the next few Pin Up Players shows in 2010-2011.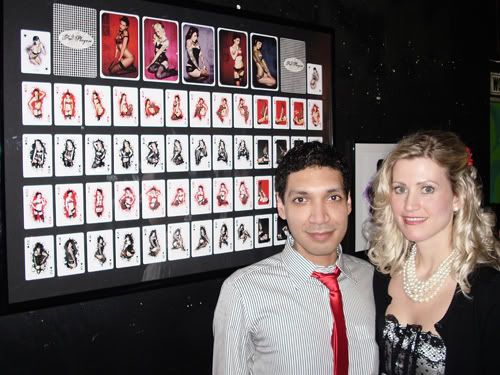 Kim & I spent the whole week leading up to the show framing prints and finalizing details. She was a huge support at the tale end of the project.
The Loop Lounge
was amazing in helping set up, letting us take over & promoting the entire event. Also, DJ AMJ killed it with a mix of tunes ranging from Elvis, Charlie Feathers & Johnny Cash to The Cramps, Rev Horton Heat, Link Wray & Dick Dale.
Here is a brief list of people who helped make the evening a success and/or helped the project during it's 2 year creation:
• Kimberly Swayze
• Matt @ The Loop Lounge
• Kat Gun
• Orrin Hogan
• DJ AJM
• Jess Holt
• Matt Smith
• Azarja
• Crystal
• Brittany Rock
• Mary-Leigh
• Brian & Sandi
• Fast Freddy
• Pin Up Perfection Magazine
• All our friends for coming out and partying with us!
* Photos by: Kimberly Swayze (& random strangers)
optphoto © 2010
www.optphoto.com