Pin Ups to Play With
by Kat Hogan *
Way back in 2008 after working on the photography-based, digital mixed media monster known as
Exoskeletal
,
Adam Ramirez
(aka
Optimism Photography
) was looking to work on something with more of a traditional art based concept. His work has always had a seductive quality, yet with a modern, experimental edge. Ramirez also has a long-standing connection to the art of pin up and retro themes, with a respect for the pioneers and illustrators of yesterday.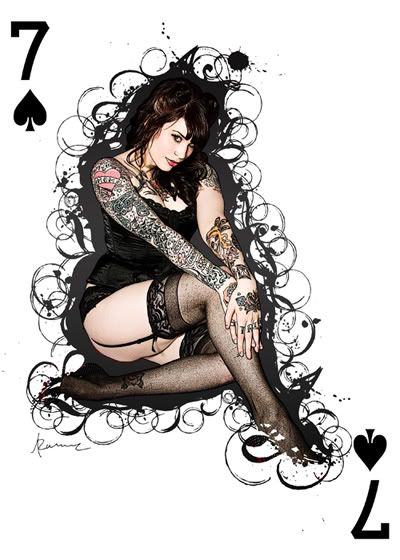 Fast forward to 2010 and Adam has recently completed a major two-part project in the vein of pin up art.
Pin Up Originals
is a collaborative work between Ramirez and 5 established pin up models. The concept was fairly simple; together they aimed to create juxtaposition between the olden days of the seductive, yet non-nude, female using photographs, and an influx of contemporary art by converting them into digital illustrations. The outcome was a series of limited edition works of art for everyone involved to be proud of.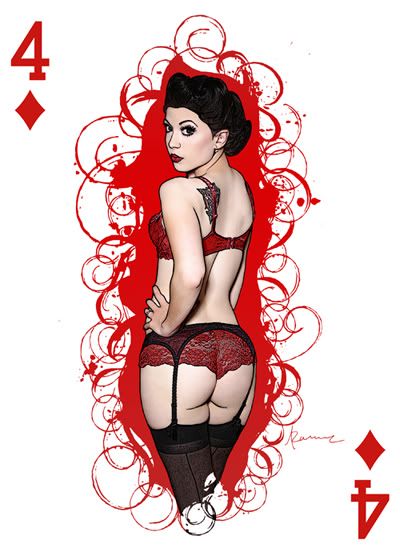 In addition to
Pin Up Originals
, a second project was born.
Pin Up Players
is a traditional deck of playing cards photographed, edited, and formatted by Ramirez using the same 5 models as one model per suit, plus one for the Joker cards. Again, using a nostalgic item - a deck of cards - to both visualize his artistic dream, and still create something fun with the girls.
Pin Up Players
was the main focus of Adam's imaginative ambition, but
Pin Up Originals
came about as a more artistic way to utilize the original photographs from the shoots. One image was chosen by each model that they felt best embodied their own personal, sultry style. The photos were then edited by Adam in a creative and color complimentary way, making for some jaw dropping graphic images. These prints are limited editions and will be available through the
Optimism Photography
website.
Pin Up Originals
&
Pin Up Players
was released on April 2, 2010 at The Loop Lounge in Passaic, NJ. The party hosted the initial limited edition run of the playing cards and photographic prints, as well as letting the public meet both the artist and models. More decks are available for purchase on our online
STORE
in a limited run. Come get em while they're HOT!
* As published in the April 2010 Issue of Pin Up Perfection Magazine
optphoto.com © 2010